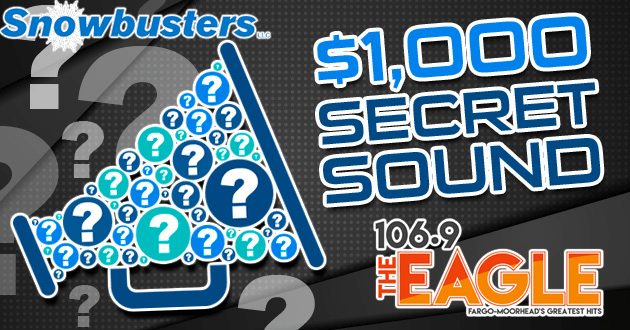 CONGRATULATIONS TO TERESA O. FROM HAWLEY – WHO KNEW SECRET SOUND #3 WAS TRAFFIC UNDER THE GREEN WALKING BRIDGE OVER I-94!
CONGRATULATIONS TO LUCY T. FROM FARGO – WHO KNEW SECRET SOUND #2 WAS THE LINDENWOOD PARK FOUNTAIN!
CONGRATULATIONS TO MATTHEW B. FROM ROTHSAY – WHO KNEW OUR FIRST SECRET SOUND WAS CLICKING THE BUTTON ON A GARAGE DOOR OPENER!
 106.9 The Eagle's Thousand Dollar Secret Sound is Back!
It's the easiest way to win $1,000!
Listen weekdays at 7:06am, 9:06am, 1:06pm & 3:06pm
Correctly identify the Secret Sound and you win $1,000 cash!
WE ARE ON TO SECRET SOUND #4!
Thursday, October 12
A faucet running
A drill
Leaves being bagged up
Filling tires with air
Friday, October 13
Suction tube at a dentist office
Can of compressed air
Air going into a tire
Can of shaving cream
Monday, October 16
Gust of wind when you roll your car window down
The fuzzy white (snow) TV screen
Spraying paint
Sharpening an ice skate
Tuesday, October 17
Pressure washer
Pencil sharpener
Crumbling a piece of paper
Steam from a pressure cooker
Wednesday, October 18
Canned (compressed) air
A saw
Grinder grinding on metal (like when you restore a car)
A shower
Thursday, October 19
Automatic car wash
Inflating a ball
Air coming out of a coffee/espresso machine
Letting the air out of a tire